StringsforaCURE® STORE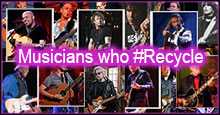 Click image to view Musicians who recycled their strings

Welcome to our store where Famous musicians #recycled their used/played guitar strings to StringsforaCURE®. Home of the guitar string jewelry that "gives back" to the cancer community. A portion of the proceeds from the July through December orders will be donated to Mary's Place by the Sea.
Elisa Guida, a jewelry designer for over 45 years, a music lover and two-time breast cancer survivor, designs one of a kind #ArtStrings, making necklaces, earrings, bracelets and rings. Due to the high demand of the StringsforaCURE® jewelry each order takes approximately 6-8 weeks to complete, UNLESS you see the READY TO SHIP Symbol, those pieces are already made and will ship within 5 – 7 days of when you place your order! If you see a musician on the list and there is not a piece in the store made out of their strings, email elisa@stringsforacure.org to get a quote on a custom piece.
To date, Elisa made donations to: Breastcancer.org, Libby's Legacy, Living Beyond Breast Cancer, the Pink Fund, For 3 Sisters, the PA Breast Cancer Coalition and Casting for Recovery. For more information Click Here to read theFACTS and read how the StringsforaCURE® jewelry lives on.

Showing 1–12 of 149 results
Showing 1–12 of 149 results