StringsforaCURE® Store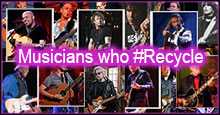 Click image to view Musicians who have recycled their strings

Welcome to our store where Famous musicians #recycled their used/played guitar strings to StringsforaCURE®. Home of the guitar string jewelry that "gives back" to the cancer community. A portion of the proceeds from the July through December 2023 orders will be donated to Libby's Legacy Breast Cancer Foundation.
Elisa Guida, a jewelry designer for over 47 years, a music lover and two-time breast cancer survivor, designs one of a kind #ArtStrings, making necklaces, earrings, bracelets and rings. Elisa makes each piece by hand, giving new life to the guitar string. Due to the high demand of the StringsforaCURE® jewelry each order takes approximately 6-8 weeks to complete, UNLESS you see the "Ready to Ship" Symbol, those pieces are already made and will ship within 5 – 7 days of when you place your order! If you see a musician on the list, click here, and there is not a piece in the store made out of their strings, Contact Us: click here, to get a quote on a custom piece.
To date, Elisa made donations to: Breastcancer.org, Libby's Legacy, Living Beyond Breast Cancer, the Pink Fund, For 3 Sisters, the PA Breast Cancer Coalition, Casting for Recovery, Mary's Place by the Sea and the Tutu Project of the Carey Foundation. For more information Click Here to read theFACTS and read how the StringsforaCURE® jewelry lives on.

Showing 1–12 of 141 results
Showing 1–12 of 141 results