Description
Already made and Ready to Ship! Pendant made out of Joe Bonamassa's used/played guitar string with ferrule, by jeweler and 2x breast cancer survivor Elisa Guida. Pendant is app. 2″ in length, with a moveable 9mm x 6 mm Teardrop Aquamarine Swarovski crystal. Comes with a 16″, 18″ or 20″ sterling silver chain. This pendant will leave my studio within 5 – 7 days of when you place your order.
Artist Release Form:
"Right now, there's no better Blues-rock artist than Bonamassa""- Gibson.com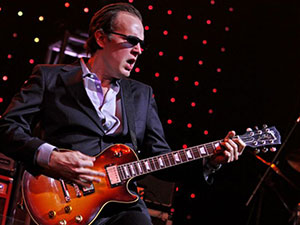 As Joe Bonamassa grows his reputation as one of the world's greatest guitar players, he is also evolving into a charismatic blues-rock star and singer-songwriter of stylistic depth and emotional resonance. His ability to connect with live concert audiences is transformational, and his new album, Black Rock, brings that energy to his recorded music more powerfully than ever before. The tenth solo album and eighth studio release of his career – as well as his fifth consecutive with producer Kevin Shirley (Led Zeppelin, Black Crowes, etc.) – the disc adds an enlivening dose of 'world' vibes to Bonamassa's virtuoso mix of '60s-era British blues-rock (à la Beck and Clapton) and roots-influenced Delta sounds.
Listen to Joe Bonamassa's music: Click Here
Visit: http://www.jbonamassa.com/