Home Page › Living expense grant recipient
Living Expense Grant Recipient
The StringforaCURE Foundation awarded it's first Living Expense Grant in January 2016. StringsforaCURE provides a one-time Living Expense grant to patients based on financial need to help ease the financial burden during the patient's cancer journey. The Living Expense Grant provides up to $1,500 in financial assistance for living expenses to breast cancer patients in Erie, PA and the surrounding areas.
---
The StringsforaCURE® Foundation awarded Erie resident Ellen Innes (R) a $1,500 Medical Grant. This was used to cover medical expenses that were not covered by her insurance. To date StringsforaCURE has awarded 63 Medical Grants in our efforts to provide financial relief to local breast cancer patients when they need it the most. SFAC Founder Elisa Guida, a 2x breast cancer survivor, was thrilled to meet Ellen and hear her story. The mission of StringsforaCURE is to provide education, comfort, support and financial assistance directly to the cancer patients, primarily those with breast cancer.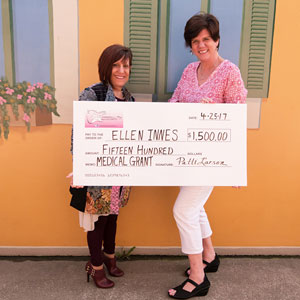 ---
Local Breast Cancer patient Connie Kuczynski was awarded our 5th Living Expense Grant. SFAC helped with some of her living expenses through August 2016. Patti and Elisa were thrilled to meet her over the summer and as her way of Giving Back to StringsforaCURE Connie crocheted beautiful chemo hats and scarfs for StringsforaCURE to use in our Purse Strings care packages and Comfort Baskets.
We received a beautiful thank you from Connie:
thank you StringsforaCURE for your generous gift of the Living Expense Grant. It has gone a long way in helping to relieve some of the financial burdens and stress that comes with a breast cancer diagnosis.
There are not enough words to express my gratitude to your organization for the support they give to many. Click here to read the rest of Connie's thank you letter.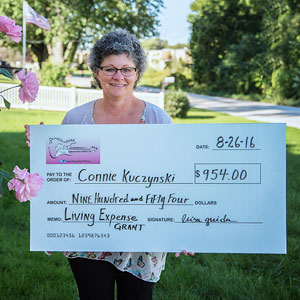 ---
Local breast cancer patient Tracy Covatto left an impression on our hearts when she was awarded our 4th Living Expense Grant in March 2016.
We received this "Thank you" from Tracy:
Dear Elisa and StringsforaCURE,
I want to thank you for all that you have done for me. Without you I do not know what we would have done. My husband lost his one job and is missing work from his other due to taking care of my son and me. You have had such an impact and I would like to let you know.
God Bless for all that you have done!
Love,
Tracy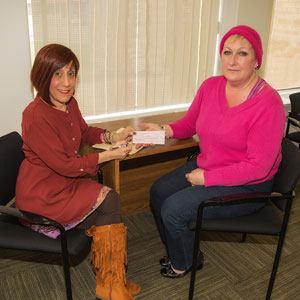 ---
Local breast cancer patient Linda Buckoski pictured below was awarded Living Expense Grant #6 from StringsforaCURE in June 2016. SFAC continued to pay her bills through September 2016.
We received this "Thank you" from Linda:
StringsforaCURE is a great organization dedicated to helping women during this difficult journey. I am so grateful and feel truly blessed for the financial help I received from them during this difficult time. Can't thank them enough.